2021 in Review
The Small-Scale Fisheries Resource and Collaboration Hub (SSF Hub) launched on January 19, 2021 as a collaborative community and resource library for small-scale fishers, fish workers and small-scale fishing communities around the world. Over the last year, the SSF Hub has brought together over 800 community members across the globe and has shared 200 resources and 97 events. Through the Community Forum, questions, challenges, success stories and information have been shared within discussions and groups in support of small-scale fishing communities worldwide.
The SSF Hub was developed for – and with – small-scale fishery actors and will continue to adapt and evolve to the needs and priorities of small-scale fishing communities. Thank you to all SSF Hub Community Members and everyone who has contributed to the SSF Hub!
Image
Throughout 2021, the SSF Hub featured 12 community members and organizations from around the world. Visit the links below to learn more about them. You must be signed in to your account to view SSF Hub profiles.
Image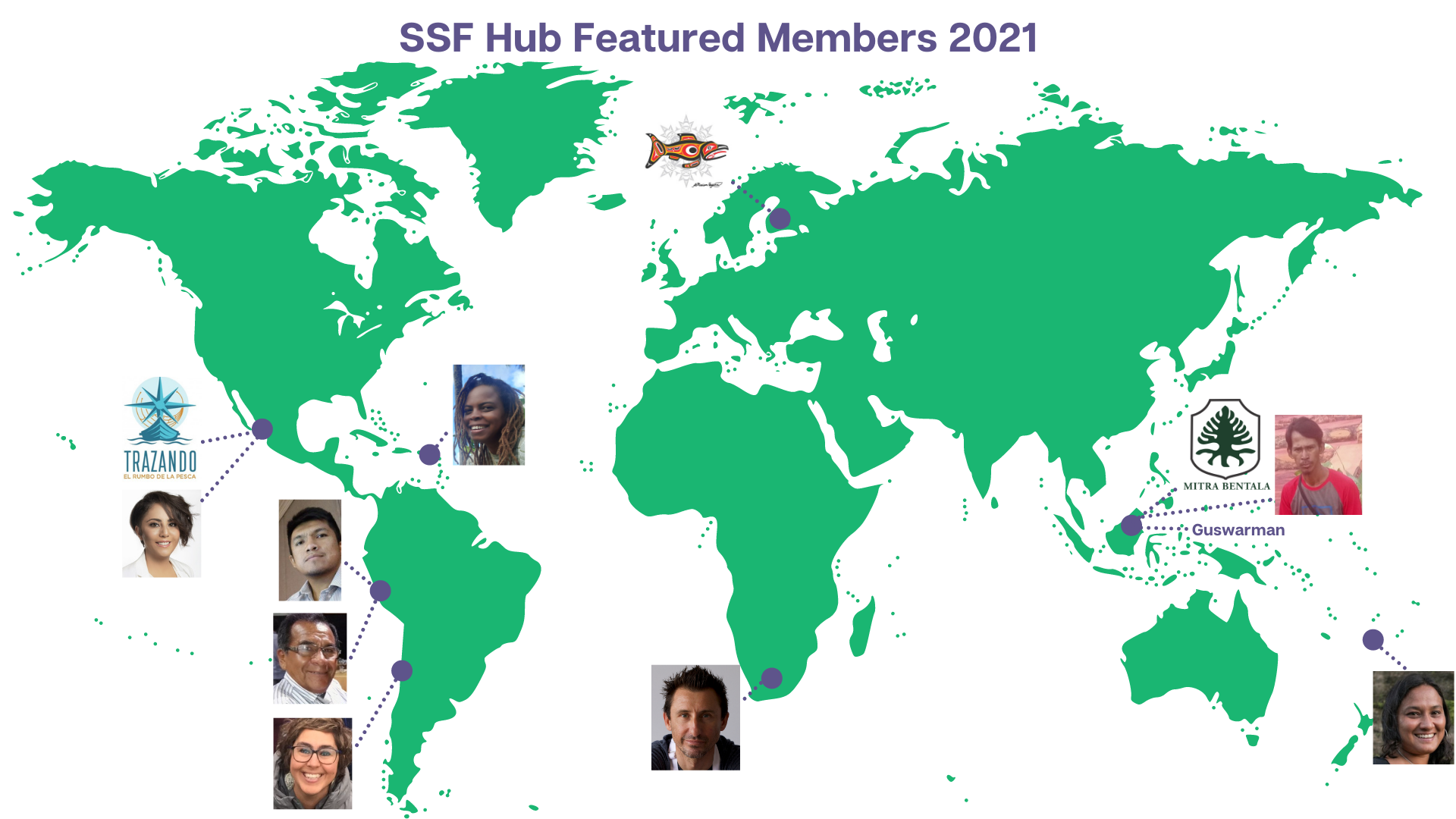 From left to right (and top to bottom): Trazando El Rumbo de la Pesca, México; Ulsía Urrea Mariño, México; Percy Gianmarco Bayona, Peru; Baltazar Chapilliquen Tume, Peru; Layla Osman, Chile; Veta Wade, Montserrat; SnowChange Cooperative, Finland; Ryan Nienaber, South Africa; Mitra Bentala, Indonesia; Miswan, Indonesia; Guswarman, Indonesia; Dr. Sangeeta Mangubhai, Fiji
Community Forum Spotlight 
Over 90 discussions were published last year across a variety of topics from traditional and local knowledge to gender in fisheries. Look back at some of the Community Forum's discussions below and explore the full Community Forum here.
Pesca artesanal, fotografías antiguas (Old photographs from small-scale fishing communities)

SSF Hub community member Percy Gianmarco Bayona shared a photo of his grandfather who was a fisherman from La Islilla, Peru. Percy's discussion allowed other community members to share photos from their communities, creating a space to preserve their memories and highlight their stories.

SSF Hub Watch Event: Kokoly

This discussion invited community members to watch a short documentary on Madame Kokoly, a traditional Vezo fisherwoman living in the Velondriake region of southwest Madagascar. Guiding questions were provided for participants interested in sharing their thoughts and reactions.
Resources 
The SSF Hub has resources in 40 languages, on issues from 70 countries with over 50 contributing authors and organizations.
Browse some of the most popular resources on the SSF Hub in 2021. 
Events
The SSF Hub shares events relating to small-scale fisheries, local to international, from a wide range of geographies and in a variety of languages. This past year the SSF Hub Events page has listed webinars on environmental leadership, presentations on sustainable food systems, report outs on small-scale fishery research, virtual summits, dialogues, and conferences.
The SSF Hub hosts a regular webinar series, "SSF Hub Presents: Fisher Voices," as a way to facilitate the exchange of stories, best practices, and actions needed to protect the lives and livelihoods of small-scale fishers worldwide. These webinars highlight important topics, voiced by small-scale fishers and fishworkers, to build increased awareness of the issues facing small-scale fishing communities and drive action to support them.
| | |
| --- | --- |
| Image | Image |
In 2021, SSF Hub hosted two sessions on the topic of Fisher Voices on COVID-19. During these sessions, fishers and fishing organization representatives spoke of the challenges that they are experiencing due to pandemic. They highlighted issues such as supply-chain disruptions, food insecurity, and lack of financial support. Speakers also discussed ways that they have innovated and adapted to overcome many of these challenges.These sessions included speakers from Bangladesh, Chile, Honduras, India, Indonesia, Sri Lanka, Thailand, and the United States.
Video content was contributed by COAST Trust; CoopDuao; Environmental Defense Fund (EDF); Fauna & Flora International (FFI); Future of Fish; International Collective in Support of Fishworkers (ICSF); International Institute for Environment and Development (IIED); Legal Aid to Women Trust (LAW Trust); Mi Caleta; National Fisheries Solidarity Organization (NAFSO); Oceana; Sustainable Development Foundation, Thailand; World Wildlife Fund (WWF). 
Recordings of the webinars and additional fisher voices videos can be viewed on the SSF Hub YouTube channel. 
Highlights
Each month, we collaborated with SSF Hub Partners and fisher organizations to highlight different stories from around the world. Explore some of the 2021 SSF Highlights below!
Thank you for a great year, we are looking forward to 2022!